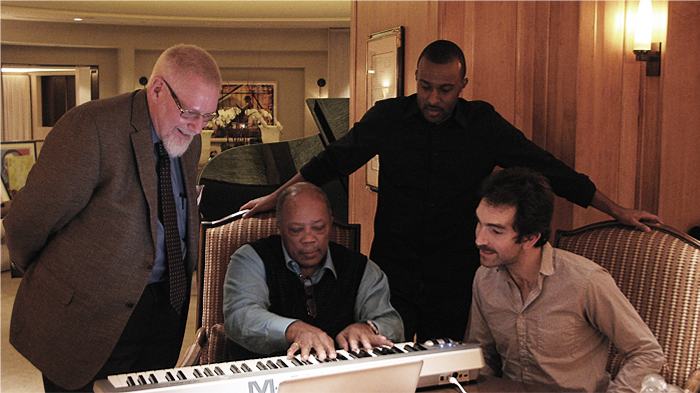 Playground's revolutionary method has been developed by some of the world's best musicians and instructors. Get to know them, and see how Playground lets you study with the best.
Quincy Jones
As you may know, Quincy Jones is a music legend. His record 80 Grammy nominations and 28 Grammys make him one of the most recognized musicians ever. He produced the best-selling album of all time, Thriller, as well as the charity sensation, "We Are The World." He has experience in every genre, from jazz and rock, to classical and pop. Over the last six decades, he has also had the privilege of collaborating with legendary musicians such as Frank Sinatra, Michael Jackson, Ray Charles, Eddie Van Halen, Aaliyah, Stevie Wonder, Will Smith, and more. At Playground Sessions, Quincy contributes to the learning methodology, the curriculum and arrangements and serves as the Chief Creative Officer.
Harry Connick, Jr.
Harry Connick, Jr. has exemplified excellence in every aspect of the entertainment world. He has received recognition with multiple Grammy and Emmy awards as well as Tony nominations for his live and recorded musical performances, his achievements on screens large and small, and his appearance on Broadway as both an actor and a composer. And with the record for the most #1 jazz albums than any other artist in US jazz chart history, Harry is a master of the piano. As your very own personal piano teacher in Playground Sessions, Harry is both charming and inspiring as he teaches everything needed to play the piano in a fun and engaging way.
David Sides
Meet David Sides, your new piano teacher. While we could tell you that David learned to play by ear at the age of ten, that he's composed hundreds of unique arrangements and his work has been featured and praised by national recording artists such as Mariah Carey and celebrities like Ryan Seacrest, or, that he's amassed over 190 million views on YouTube, the best way to impress you is just to watch him play. As you follow along, he will share his perspective and arrangements with you in a supportive, accessible and personable way. We are confident you'll agree that David is one of the best piano teachers in the world - thank goodness he switched from a math major to a music degree. ~ More about David Sides
Alex Ness
Playground's curriculum development was led by musician and professor Alex Ness. Alex received a B.A. in music at Harvard University, and is now pursuing a Ph.D. in music at New York University (NYU). He has taught self-designed music courses to college students at NYU and The New School, and for several years he taught middle- and high-school students at the Walden School in New Hampshire. In 2009 he received NYU's Outstanding Student Teaching Award in recognition of his music-teaching skills. He has won fellowships to study music from the Beebe Fund, Harvard, and NYU. As a scholar of the history of music theory, he has presented papers at the Sorbonne, the American Musicological Society, and the College Art Association. In addition to teaching, studying, and writing about music, he is an active composer whose work has been performed by several distinguished new-music ensembles.
David Gracia
David Gracia is the Founder and Director of the Washington Heights and Inwood (WHIN) Music Project, and El Sistema-inspired program that has served an average of 150 children per week since 2012. David was selected as one of the 50 talented young musicians to participate in the 2010-2011 Sistema Fellows Program at the prestigious New England Conservatory in Boston, MA. David holds a Bachelor of Music in Piano Performance and a Master of Arts in Musicology, both summa cum laude from the Aaron Copland School of Music in New York City. An accomplished pianist, conductor and arts entrepreneur, David is also the Music Director of the New York Society for Ethical Culture.
Dr. Byron Adams
Dr. Byron Adams is currently a Professor of Musicology in the Music Department of the University of California, Riverside. His music has been performed in the U.S. by the West Virginia Symphony, the Syracuse Symphony, and Cantori New York, as well as in Europe at the International Festival of Contemporary Music, the Leith Hill Festival in England, and the Armenian Philharmonic Orchestra. A recipient of numerous awards and grants, Dr. Adams received the first ever Ralph Vaughan Williams Research Fellowship as well as the Philip Brett Award, given by the American Musicological Society. However, his greatest contribution may be the incredible knowledge and training he's imparted to his students, one of whom is David Sides. Playground is honored to have such a distinguished musician and scholar among its originators.